18 September 2005, evening time
As I mentioned in passing a few days back, I spent some of my hard earned money on the web site statistics application Mint. I hate buying software—a lot. Paying money for a bunch of PHP pages was even harder for me to do, but I am glad I did it.
Mint was dead easy to set-up. The instructions were minimal, but worked well. I set up Mint to run on Shima's MovableType blog, and my blog using Textpattern without any real issues to speak of. (From reading the Mint Forum I am aware that not everyone had such an easy time setting up Mint. Luckily, most questions asked on the Mint Forum are answered quite quickly, by people like myself who have been using Mint for a week or so, and by the author of Mint, Shaun Inman.) I have written instructions on setting up Mint for use with Textpattern, which describe what I did to set things up here on my site.
Once installed, loading up Mint in your web browser will show you an overview of the information Mint has been collecting as people come and visit your website. The basic Mint installation collects information on: the number of visitors to your site, the search terms that brought people to your site, the referrers that sent people to your site, and the pages people have viewed on your site. This information can be supplemented by installing Peppers, which are little scripts that add to the functionality of Mint. I installed Peppers that display information on: user agents (web browsers, operating systems, etc.), IP addresses of my visitors and what they were browsing while at my site, and local searches performed while at my site. I also installed one other Pepper that displays the default visitor information in a SparkLine style graph.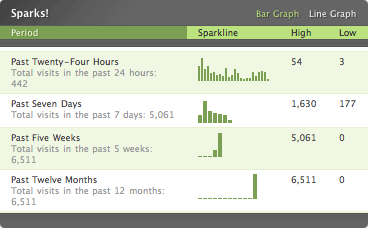 It has been interesting looking at this information. I had been using Visitor to analyse my access logs, but because of all the referrer spam I get, it is hard to trust the values it spits out. Mint records hits using Javascript, which will basically capture information about most people viewing your website. Those people who browse with Javascript turned off, or who use a web browser like Lynx, will be invisible in your statistics. That said, most bots who also end up at your site will also be invisible, which is what I want.
So, after a little over a week of use, I have learnt the following about the web browsers used to view my site:
51% of the people who see my site are using Internet Explorer? God damn it people. This is why I feel compelled to fix the way my site looks in IE. Firefox has been out for so long now, and people still haven't learned.
I like Mint a lot. It's very slick. If $30 dollars is a lot of monet to you, then you probably may want to stick with ShortStat to track the visitors on your site. If on the other hand, you blow more than that on a night out, you may want to stay in one night and geek out installing Mint. I was unsure before if the program was thirty dollars good, but now I think it is.