26 January 2009, early evening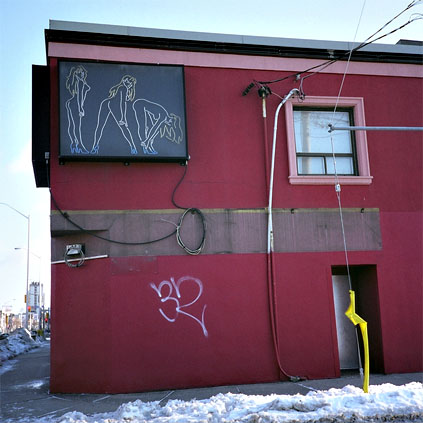 Club Paradise is one of two strip clubs in my neighbourhood, the other being the House of Lancaster. While the House of Lancaster is just a strip club, I consider Club Paradise a landmark. Two things about the club standout in my mind. First, it shares a wall with an evangelical church. That's an awkward living arrangement. Besides that, it is also home to this brilliant large neon sign of a girl bending over. It's a surprisingly explicit sign and, as one could imagine, not a popular sight in the neighbourhood. The sign has been off for a few weeks now. Apparently the owner is caving to residents requests to take the sign down. By spring it may not be here at all. I think i'm the only person in Blansdowne that's going to miss the sign. I liked looking out my window and seeing it. Club Paradise is a pretty ugly building when you take away its sign.
Update: The lights are back on! And there are new signs.
Update Sept 26th 2013: The sign was taken down, and replaced with an incredibly boring picture of a ladies lips. It is the worst.